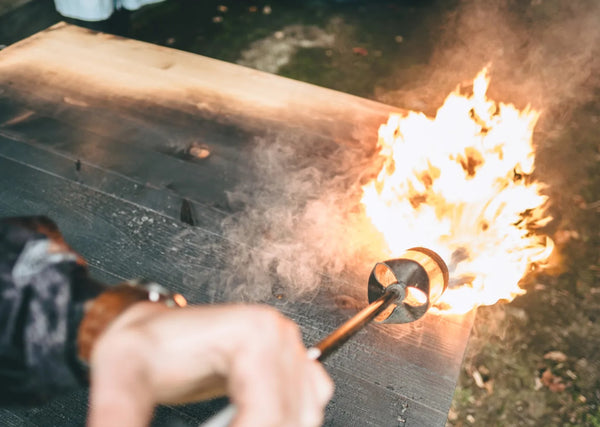 Why we love our black finish teak collections
A finish of the ages.
The dark charcoal finish used on our reclaimed teak collections is not achieved by using a coloring agent such as a paint or a stain. It is actually a very old Japanese technique called "Shou Sugi Ban" which roughly translates as "Burn The Cedar."
In ancient times, without the benefits of modern chemicals to treat timber, the Japanese instead used a technique that involved burning or charring the exterior walls to protect them from the elements and invasive pests. This enabled them to extend the durability of the timbers used to protect the exterior of their homes.
Our furniture makers have modified the process to suit the raw materials used in these collections, which comprises of especially selected timbers reclaimed from old Javanese structures. 
These reclaimed timbers are specially treated, kiln dried, and then sanded before the initial charring process. Once charred, it is then re-sanded before charring the surface once more. This process is repeated until the furniture maker is satisfied that the piece is sufficiently rich in texture, tone and pattern. It is then protected with a natural oil before adding a clear top coat to further protect the finish, and to minimise the possibility of stains.
Depending on the dimensions of the furniture piece, a skilled carpenter may only be able to produce one to three pieces each day. 
Each item in the collection is a true testament to the dedication and skill of the carpenter that produced it. The textures that are present in the timbers, with all of the imperfections that are evident from age and use, are enhanced by the soft, dark tone that only fire and skill can impart.
And that is why we love these collections.